Do you have questions about Platemaking?
All Printing Resources helps packaging printer make the leap to digital platemaking
Situation: With significant funds being spent outsourcing digital platemaking, this printer needed to go from conventional "analog" platemaking to digital...
Team Effort Brings Cost Savings and Speed Inhouse.
Heavily dependent on a third-party vendor for their artwork and platemaking, this global consumer packaging company was challenged with tight timelines and shrinking deadlines....
---
Conventional Solvent-Wash Platemaking with the Glunz & Jensen Concept 201 HTD
Platemaking Solutions
APR offers a comprehensive set of platemaking solutions from worldwide industry leaders designed to deliver:
Improved image quality
Greater print consistency and repeatability
Maximize our customer's investment in cost reductions and revenue increases
Why APR for your Platemaking requirements?
Although we represent worldwide industry leaders, so do our competitors. Most of the products we all offer will work. The difference... the level of support you get from start to finish to make sure that:
the right solution specific to your needs is achieved
this solution is implemented efficiently and effectively to reduce costs
this solution is backed by strong ongoing technical support, training, and customer service
Unique Programs & Services
Equipment Service and Installation - APR has factory trained service technicians to install, perform preventive maintenance, and service the photopolymer platemaking equipment we provide assuring reliability and consistent performance.
Plate and Print Diagnostic Services - Using the state-of-art technology such as the Flexo IAS device, APR can conduct in depth plate and print analysis to identify possible opportunities for improvement or to diagnose and trouble shoot print problems.
Solvent Recovery Systems - APR offers a complete line of solvent recovery systems for those customers who prefer to recycle their own solvents. Recycling typically lowers total solvent costs.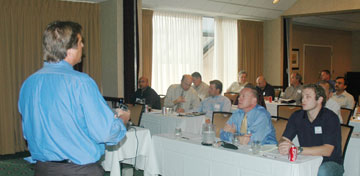 Digital Platemaking Training - APR conducts both off-site and in-house customized training programs on how to optimize digital flexo plate technology for quality, consistency and repeatability.
Biographies of our Support Team
Leasing & Payment Options
We offer various lease options including operating leases and rent-to-own programs.
Platemaking Products
For more information, please contact us at 1 (800) 445-4017 or e-mail info@teamflexo.com.