APR is happy to introduce Esterlam's new G Series synthetic doctor blade aimed at the corrugated market. After completing extensive testing and market trials Esterlam released their latest innovation to their already globally successful portfolio.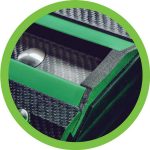 Designed to bring the improvements corrugated printers demand to bring the best in quality, safety, productivity and value. The G Series in manufactured from a premium material offering up to 3 times the blade life of other blades in the market place.
Major corporations worldwide have demanded a UHMW material allowing instant start up, repeatability, safety  and the longer blade life. Esterlam has delivered with the G Series. With instant start ups reducing waste, margins improve on all jobs. In addition printers can be confident handling this new blade, as with all Esterlam materials, safety is not compromised, making installation quicker and safer, improving turn around time.
To learn more about this product contact Dan Muthig at d.muthig@teamflexo.com or call: (920) 843-4521.