What's in a name?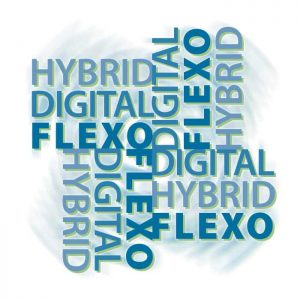 It seems like everywhere you turn, you hear the phrase Hybrid Digital Flexo, Digital Hybrid Flexo, Flexo Hybrid or some other combination... Are they all the same or is each phrase unique?
In the Flexographic industry, the terms are essentially the same—however the products can vary greatly. Any phrase using the words Digital, Hybrid and Flexo essentially mean a narrow web product that combines both the Flexographic printing process and a digital printing process. This can be achieved in a myriad of different ways.
Conventional press manufacturers have teamed with digital press manufacturers to integrate their technologies
Conventional press manufacturers have also invented and created their own digital imaging technology and added it to their conventional press technology
Digital press manufacturers have added their digital imaging technology to existing flexo presses
As if this weren't complicated enough, there are multiple types of digital imaging technologies, although most Hybrid Digital Flexo presses use either UV inkjet or water-based inkjet technology.
The "Digital" augments the "Flexo"
The first sobering fact for Flexographers is that your current conventional Flexo press can do things that NO single digital press can do. For example, a good ol' Flexo press can print multiple types of substrate, multiple colors with both process or spot inks including metallics and pastels. It can print white, laminate to another substrate, laminate over the printed image, varnish, spot varnish, die cut, reverse print, foil stamp, perforate, and on and on. So your first question when researching any Hybrid Digital Flexo press or Digital Printing in general is, "What would I like to accomplish by going digital?"
The "Why" can point to the "How"
It really helps to identify the reason for going digital first, and then look at technologies or products that address those issues. Here are some reasons we currently hear:
Cost Effective - Produce short runs more economically
Efficient - Reduce make-ready time and increase up time
Flexible - Simplify variable data and multiple SKU proliferation
Competitive - Penetrate new markets and compete with existing markets
Smart - Differentiate business from competitors
Is it time to get on board?
As you can see, there is a lot to review and digest when discussing digital printing and Hybrid Digital Flexo. Be assured, digital printing or Hybrid Digital Flexo will be like every other technology... once it hits the "Tipping Point" it will obliterate the previous technology. Just as a point of reference, June 29, 2017 marked the 10th anniversary of the Apple iPhone. Remember when a phone was hooked to a wire, that ran through the wall, out of the building, and connected to poles - you know, telephone poles??
Click here to learn about APR's Hybrid Digital Flexo offering, the Colordyne 3600 Series Retrofit.