Colordyne 1600 Series C — Efficient, Accurate and Cost Effective Solution for Print-On-Demand Applications
On demand secondary labeling and AIDC applications have never been easier with the Colordyne 1600 Series C. Colordyne's digital printing platforms offer fast, flexible and scalable solutions, perfect for reducing cost and eliminating pre-printed label inventories. In one convenient step, the 1600 Series C produces high quality process color labels and tags and integrates variable data – allowing for brand owners, private label manufacturers and label converters to print exactly what the job calls for, large or small.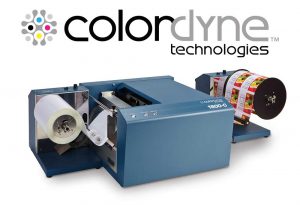 Flexible for Your Applications
The 1600 Series C can be easily set up for the following printing formats: roll-to-roll, roll-to-cut and fan fold; making for quick set-up and change-over between jobs.
Variable Data, Simplified
Seamlessly merge designs and layouts with text, images, barcodes and database information to handle the needs of security packaging, tracking, personalization and micro-segmentation.
Add vibrant color to your labels, tickets & tags
With the Colordyne 1600 Series C print-on-demand applications are more efficient, accurate, and cost effective. Digital color printing allows you to reduce pre-printed inventories, cutting costs, waste and obsolescence in the warehouse. In one step, the 1600 Series C adds vibrant color to your labels and tags, integrates variable data and prints only what you need, when you need it.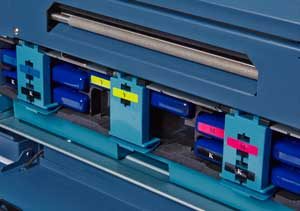 Ease of Use
Easy to replace 250 mL ink cartridges
Intuitive print driver software
Print full bleed on pre die cut media
Customer replaceable components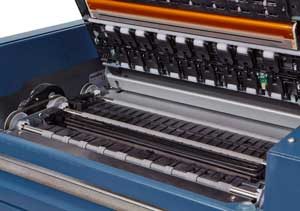 Production Output
60 feet per minute (18 m/min) max print speed
Conveyor options available
Detailed job costing software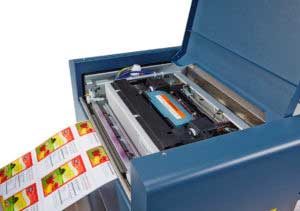 Digital Front End Software
Harlequin-based RIP software
Spot color replacement
PDF, Post Script workflow
On-the-fly color management
General Information
Premium print speed: 30 ft/min (9 m/min)
Premium resolution: 1600 x 1600 dpi
Normal print speed: 60 ft/min (18 m/min)
Normal resolution: 1600 x 800 dpi
Max print width: 8.75" (222 mm)
Color: CMYKK
Ink supply: Five 250 mL ink cartridges
Ink chemistry: Memjet® aqueous based dye
Media Handling
Media width: 2" to 9" (51 mm to 229 mm)
Media caliper: .004" to .012" (.1 mm to .3 mm)
Media type: Aqueous inkjet compatible
Media sensing: Transmissive (label gap sensor); Reflective (black mark)
Optional unwind/rewind: 8" OD (203 mm); Core Size: 3" (76 mm)
Software Solutions
Colordyne Print Driver and Toolbox
RIP and color management: Xitron® Navigator RIP (Xante iQueue)
Variable data: Xitron® Variegator
Minimum System Requirements
Operating system: Windows® XP or Windows® 7
Processor: 2.5 GHz dual core CPU
Memory: 4 GB RAM
Hard drive: 250 GB
Ethernet and USB: 2.0 or higher
Optical drive: DVD-ROM
Operating Environment
Operation: 59° F to 95° F (15° C to 35° C) at RH 22-80% (non-condensing)
Atmospheric pressure: 70 kPa to 106 kPa
100/240 VAC, 50/60 Hz, 2.5 A
Dimensions
Length: 21" (533 mm)
Height: 11" (279 mm)
Width: 21" (533 mm)
Weight: 70 lbs (32 kg)