Add Digital Printing Capabilities to Your Existing Flexo Press
Now Available for UV or Water-Based Inks!
The Colordyne Technologies 3600 Series Retrofit allows you to turn your existing press into a state-of-the-art hybrid digital flexo press. The Colordyne 3600 Series Retrofit digital printing platform offers an industry-leading combination of high print quality, fast job production, and low equipment cost. The 3600 Series Retrofit is an ideal print production solution for label converters looking to add full color digital inkjet printing to their existing flexographic press, and make use of their tooling inventory.
The 3600 Series Retrofit is available in two configurations:
• The 3600 Series AQ - Retrofit - water-based ink
• The 3600 Series UV - Retrofit - UV ink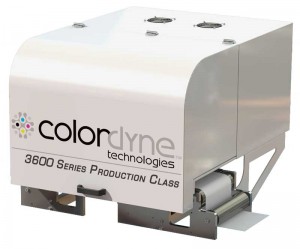 Cost Savings & Superior Performance
Avoid costly setup expenses by printing high mix, low volume jobs digitally and add full color variable data to traditional analog processes. The superior performance and price proposition, ease-of-use, self-maintainability, and scalability of the 3600 Series AQ or UV Retrofit platforms create a powerful productivity tool suitable for use in a variety of converting applications. Utilize the 3600 Series to profitably augment and grow current CMYK printing activities.
Variable Data, Simplified
Seamlessly merge designs and layouts with text, images, barcodes and database information to handle the needs of security packaging, tracking, personalization and micro-segmentation.
Why Colordyne Retrofit?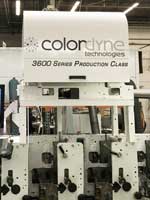 When looking into digital printing the first question asked is What Technology? The second question asked is What Digital Finishing options? In many cases the digital finishing option can be as much or more than the capital cost of the digital print technology!
With the Colordyne 3600 Series Retrofit, narrow web converters simply add digital printing to their current flexo press and it's existing finishing capabilities. This means they can utilize existing die cutting and lamination stations. It also utilizes an existing asset reducing capital equipment cost. The Colordyne 3600 Series Retrofit is installed above the flexo print units so the press can still print using the flexo print process. In fact, you can print flexo and digital at the same time!
Download - ColorDyne 3600 Series AQ Retrofit data sheet, English 2.7MB
Download - ColorDyne 3600 Series UV Retrofit data sheet, English 1.9MB
Why Inkjet?
Digital printing continues to make major inroads in the Narrow Web Flexo market. There are two core digital print technologies:
Electrophotograhic (EP) - toner based
Inkjet - Drop on Demand (DOD)
EP, or toner-based technology is a very mature technology having roots more than 25 years old. Toner technology has serval mechanical parts within each print station, electrostatic charging, fuser drum, transfer, and cleaning. These components all require maintenance.
Drop On Demand inkjet technology is based on a thermal or electric impulse to squeeze ink droplets from the inkjet nozzle. Drop on Demand systems typically have higher resolution and less maintenance is required.
Most of the new digital print product offerings are based on inkjet technologies. The driving factors are Quality, speed, resolution, non contact with the substrate, and less maintenance.
There are two ink types available: UV ink and Water based Ink. UV inks require a curing unit and the print heads typically have slightly less resolution (dpi) than water base ink. Water based inks are typically dye based ink and UV ink is typically pigment based. Pigment based ink are required for durable labels including products used outdoors and are also available in White.
Today's digital inkjet print technology uses linear print heads. These print heads range in print width and can be ganged to together to create wider print swaths. These print heads are stationary and substrate moves underneath them. This is know as Single Pass printing. The stationary print head allows for high print speeds.
Why AQ?
Memjet has taken Drop on Demand inkjet technology to the next level.
Memjet™ color printheads use what they call "waterfall" technology. Simply put, each printhead fires millions of ink drops per second. It's more energy efficient. It's more mechanically sound. The printhead is a radical shift in printhead design.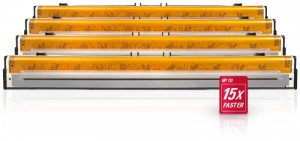 Print width: 8.64″ or 17.2″ (219.5 mm or 431 mm)
Max print speed: 335 ft/min (102 m/min)
Max resolution: 1600 x 1375 dpi
1.2 picoliter fixed droplet size
Simplex or duplex configurations available
Up to 17x nozzle density of existing printhead technology
Customer replaceable component
Fewer Components Means Less Down-Time and More Profit Per Hour
By utilizing Memjet waterfall technology, the ColorDyne 3600's Production Class digital print engine is able perform with less components and parts than any other digital print technology today. All the parts are customer replaceable components meaning your team will spend significantly less time trouble-shooting and servicing, and more time producing product.
Memjet™ Waterfall Printhead Technology® isn't just the fastest around, it's also the most environmentally-friendly, which translates into significant operational efficiencies:
Water-based inks
No nano particles
No noxious odors or fumes
No heat drying means less energy used
Print anywhere for a smaller carbon footprint
Complies with all global environmental standards
Recyclable printhead
Download - ColorDyne Memjet Sustainability data sheet, English 2.7MB
Why UV?
Powered by industry recognized Kyocera print heads.
The 3600 Series UV Retrofit prints in 600x600/600 x1200 dpi. Droplet size of 3, 7, 11, 14 pico-liters, create multiple print options from fine text and smooth images to robust solids across a the CMYK color space.  The 3600 Series UV Retrofit UV LED inks allow the converter to use their existing substrates including film products with the optional White ink.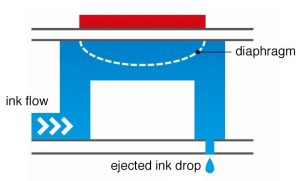 Print width: 8.5″ or 12.75″ (216 mm or 324 mm)
CMYK or CMYK+W
Max print speed: 246 ft/min (75 m/min)
Max resolution: 600 x 600 dpi
Multiple droplet sizes
UV LED inks
Pigment inks for durable labels or outdoor usage
Utilize existing substrates including film with optional White ink
Why APR?
We specialize in supplying the Flexo industry with solution-oriented products. In researching the digital print products, we continually found that the manufacturers of the technology had limited knowledge of the Flexo industry. APR has worked with Colordyne to provide color management and workflow solutions that compliment flexo rather than introducing 'digital only' solutions. We feel digital print technology should compliment the Flexo print process.
APR has subject-matter experts in digital prepress and color control, as well as workflow and press operation. Our sales and support team are all FIRST-Certified Implementation Specialists, one is a Certified G7 Expert. Our team understands the special aspects of digital printing. We can steer you around any obstacles before you run into them. You may be able to purchase digital printing technology elsewhere, but you really need a partner that understands it completely, and has experience with its implementation. The partner you want is All Printing Resources.
Colordyne explains why they partnered with APR in this Labels & Narrow Web Magazine article:
APR Partners with Colordyne for 3600 Series Retrofit.
Frequently Asked Questions
What is the maximum print width?
AQ - each Memjet print head is 8.7" wide with a maximum print width of 8.69". Multiple heads can be stitched together to create a maximum print width of 17".

UV - each Kyocera print head is 4.25 creating an 8.5" width or 12.75"
How many colors does the print head support?
Colordyne 3600 Series AQ Retrofit can be configured with 4 (CMYK) + Spot color.

Colordyne 3600 Series UV Retrofit can be configured with 4 (CMYK) + W
Maximum Print Speed?
AQ - the maximum print speed at full 1600 x 1375 dpi is 275 ft/min (84 m/min)

You can also step down the resolution for additional speed.

1600 x 1135 dpi - 335 ft/min

1600 x 725 dpi - 500 ft/min

UV - maximum print speed is 246 ft/min (75 m/min)
What Flexo presses can the unit be added to?
To date, the Colordyne 3600 Series Retrofit has been added to Mark Andy 2200's and 10" Aquaflex presses. The configurable design for the Retrofit unit makes it adaptable virtually any narrow web label press.
Does the Colordyne 3600 Series Retrofit require special inkjet media?
AQ - Yes, for optimal speed and print quality, a recognized inkjet media is recommended. Colordyne's recognized inkjet media list available upon request.

UV - does not require special media but may require a UV primer before the print head.
Does the Colordyne 3600 Series Retrofit include a rip?
Yes, the systems comes with a Xitron's Navigator Harlequin RIP.