Precision Cutting for Platemaking
The Evolution E2 Precision Cutter combines all the features and functions wide format printers and sign makers need. It's accurate, easy to use, and can mount onto your existing table.
The heavy duty cutter bar clamps materials securely. The high-performance double cutting head design relies on long-lasting Graphik blades. These unique reversible blades cater to both left and right-handed operators and cut materials up to 1/2". Also included is one medium-duty utility blade holder that accepts standard utility blades and cuts up to 3/8" thick. Flip-over stops on both sides adds horizontal clamping to increase accuracy, prevent slips & reduce cutting time.
"What we really like about this cutter is the bi-directional cutting capability and the weighted cutter bar which really grips the plate and prevents it from shifting during cutting."
Prepress Manager at a flexible packaging company
The Evolution - E2 mounts directly onto your existing table or work surface. Adjustable levelers ensure straight and accurate cuts to within .008" over the entire length. The lift hold mechanism is operable from both sides.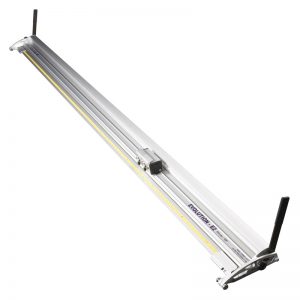 ---
5-year general warranty on all parts (except blades, clamping strips and cutting wheels).
20-year warranty on the bearings used in the cutting head.
| Item # | Cut Size |
| --- | --- |
| 60386 | 64" |
| 60387 | 84" |
| 60388 | 104" |
| 60389 | 124" |
| 60390 | 144" |
| Item # | Description |
| --- | --- |
| 69108 | Medium-duty blades (100) |
| 69119 | Superior quality blades (100) |
| 69131 | Graphik D 017 blades (100) |
| 60395 | Medium-duty blade holder |
| 60396 | Graphik blade holder |
| 60195 | Textile cutting strip, 15'6" long (2) |