Quick Wash Premium | Daily Washing of Water-based Inks
Quick Wash Premium is the standard product for water-based inks. When diluted 10 to 100 times, it can be used on press to wash the printing unit or off press to wash plates and parts. Usable both for water-based inks and acrylic /UV varnishes, Quick Wash Premium is easily biodegradable and less greasy that most products used for this application.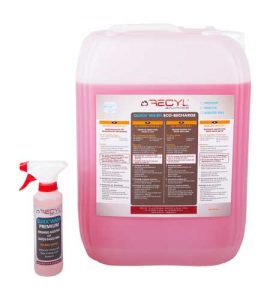 For best results with Quick Wash Premium while cleaning flexo plates, Recyl recommends using Recyl brushes for plate cleaning. These are available in different sizes and in Wood-Horsehair or PVC-Synthetic combinations.
Quick Wash Premium is now available in Eco-Refills