FlexoGuide E-mail Newsletter
FlexoGuide is an e-mail newsletter we provide to notify our customers of new product offerings, special discounted items and news updates. The FlexoGuide newsletter is a free service for our customers.
To sign up to receive FlexoGuide, fill in the form on this page to add your e-mail address to our mailing list.
If you decide at any time that you no longer want to receive FlexoGuide, you will always have an opportunity to unsubscribe at the bottom of each issue. Thank you! Look forward to your first issue of FlexoGuide in the coming weeks!
FlexoGuide Sign-up Form
To start receiving FlexoGuide, please provide us with your contact information by clicking on the button below and filling out the registration form: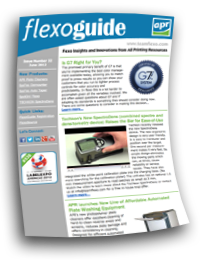 Join our FlexoGuide mailing list!
Please enter your contact info to be added to the FlexoGuide mailing list.