Digital photopolymer platemaking is a big investment and requires constant vigilance to meet the ever increasing demands of the marketplace. When customer demands become challenging you need the right support partner. Although both APR and its competitors represent worldwide industry leaders, the difference is the level of support. APR helps you from start to finish, making sure that your solution:
is implemented efficiently and effectively to reduce costs
is Optimized to your specific requirements
is backed by strong ongoing technical support, training, and customer service
APR's Technical Solutions Group (TSG) is there supporting you when you need them to optimize your plates and processes to achieve the print results your customers demand. No other source has a more comprehensive team to ensure success.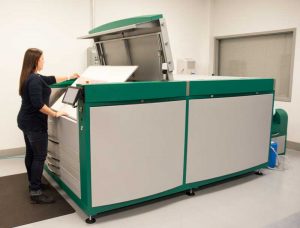 Our state-of-the art solutions center offers us the ability to train on the latest technologies. It also provides us with the ability to back-up our customers with complete digital platemaking capabilities.
APR's TSGo Optimization team expands on OEM optimization programs with post-install and post-training solutions to ensure our customers continue to maximize the benefits of equipment and workflow improvements to their Flexo process. Having worked with our customer and the OEM during the assessment, implementation and training for the new product solution, our team then builds upon that initial setup and training with a focus toward day-to-day operations, maintenance, calibration, the incorporation of additional workflow settings/ situations and best practices.
Other services include:
Using the state-of-art technology, we can conduct in depth plate and print analysis to identify possible opportunities for improvement or to diagnose and trouble shoot print problems.
We have factory trained service technicians to keep your equipment running at optimal performance.
We conduct both off-site and in-house customized training programs on how to optimize digital flexo plate technology for quality, consistency and repeatability.
"We don't know what we don't know" but with APR as your supplier partner you will be continually kept abreast of industry trends, new technologies, and money saving techniques.
Beta Industries
EFI Proofing Systems
Esko Workflow
Esko Proofing Systems
Esko CDI Flexo Plate Imagers
Esko Digital Flexo Suite
Esko HD Flexo

MacDermid Photopolymer Plates and Equipment
LUX® Platemaking Process
LAVA Thermal Processing Plates & Equipment
Analog Sheet Photopolymer Plates
Digital Sheet Photopolymer

nyloprint printing plates
nyloprint processing equipment
Techkon Troika Anicam
Troika Plate II Print HD
X-Rite