Record Attendance as Flexographers Prioritize Process Control
APR's recent March Madness event catered to an eager-to-learn crowd as flexographers from across the Midwest gathered to hear industry experts discuss the latest technology addressing downtime reduction, QC, process optimization and color control.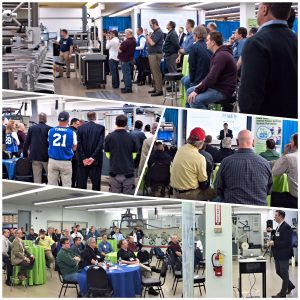 The event brought together nine speakers including APR personnel and representatives from APR's supplier partners. Presentations took attendees on a journey from 'Prepress to Press' with a wide range of discussion topics including plate technology, UV LED curing, ink delivery systems, extended gamut printing, mounting tapes, color matching, prepress workflow and laser anilox cleaning.
APR CEO, Dave Nieman, commented, "We were thrilled to have such a great turnout for our March Madness event this year and an attendance that broke all previous records. I want to commend both APR personnel and our supplier partners for delivering outstanding presentations. In the afternoon attendees were able to see different equipment demos and automated job changeovers on the newly installed Bobst M5 Digital Flexo Press. In today's competitive flexo environment, process control is more important than ever and forums like our March Madness event help us to become even more effective solutions providers to our customers."
Comments from APR's supplier partners participating in the event include:
"While attending All Printing Resource's open house last week I had the pleasure of seeing old colleagues and customers and meeting new friends. It was exciting to witness the thirst from our industry to always be learning. APRs technical center provides the ideal platform for our industry to learn about new technologies through open houses, focused seminars and hands on learning. One of the highlights for me was seeing how well Dave and his team work together to provide the best technical solutions for our converter partners." – Pete Mulheran, President, Eaglewood Technologies
"I participated and presented at APR's March Madness Event last week. This was a very valuable open house organized by APR. As a supplier I had the chance to interact with many customers and colleagues, learn a lot and see live demos of many products. It was a valuable business day. APR was a great host, and the event was around March Madness, very cool!  I hope to be able to participate in the next one. Thanks, APR." – Julian Fernandez, PreSales Product Specialist Flexo, Esko
"APR's open house was a great opportunity for label and packaging converters to come together to learn what's new in the industry and how the products, tools and information presented during the open house can be applied to their own businesses. The event was a great opportunity for Colordyne to educate attendees on the value of digital printing in their respective markets." – Taylor Buckthorpe, Director of Market Development, Colordyne Technologies
"The March Madness Open house at APR was a success for Bobst.  The Bobst team enjoyed the opportunity to be part of a program that informed and educated the label industry on the latest products in the market. ECG, changes with inks, and the support APR puts around these products and solutions was informative.  Everyone enjoyed the opportunity to learn and connect at this event." – Todd Blumsack, Vice President, Business Unit Web-Fed, Bobst