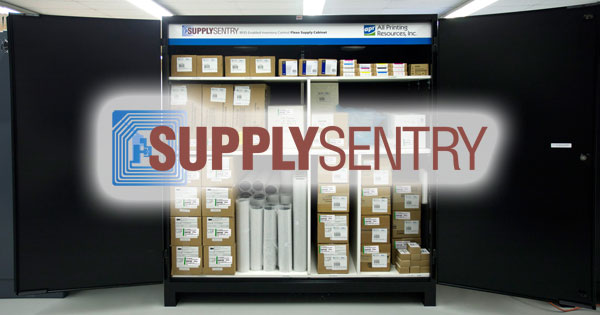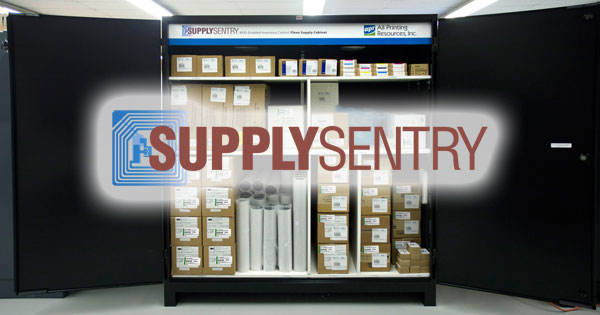 RFID-Based Inventory Management
Managing inventory levels of such products as stickybacks, tapes, doctor blades, and other miscellaneous items can be labor intensive and time consuming. Even careful attention to stock levels can be suspect if requirements change quickly due to unforeseen events. Typical vendor-managed inventory or consignment programs can also fall short as they are dependent on periodic counts vs. real time information.
Today's flexo printer cannot afford to have stock-outs. The cost of shutting down a press for lack of the right end seal or changing the schedule because you do not have the right stickyback to mount a job is unacceptable.

Johnna Hanson, American Packaging Corp.
A few years ago, APR began to work on a solution for this problem by integrating RFID technology into supply cabinets and developing integrated inventory management software. The goal was to develop a solution that offered reliable real-time inventory management with a user-friendly user interface that reduced "stock-out risk", optimized inventory levels, and saved time. After continuous investments and improvements, APR's RFID-based
SUPPLY
SENTRY was launched. Today's
SUPPLY
SENTRY system is a proven solution for real-time inventory management delivering real supply chain value. APR's
SUPPLY
SENTRY RFID-enabled Flexo Supply Cabinet is essentially a storage cabinet for all of the supply items that you use on a daily basis such as stickybacks, tapes, doctor blades, end seals, photopolymer, safety supplies, and much more. This cabinet utilizes the latest in RFID technology to automatically keep track of what you use and what you have on-hand. The system tracks inventory levels real time and alerts you when you need to re-order supplies. This allows you to focus on your business, and not on your MRO supply levels.
More dependable than consignment inventory or traditional vendor managed inventory programs.
Most systems today require a fair amount of human intervention to work efficiently to properly manage MRO or indirect material items. If not controlled properly, these systems may result in stock-outs or increased inventory amounts because the system is not operating on a real-time basis. A more real-time solution offers the ability to rapidly determine any changes in usage patterns and set up replenishment rules based more on just-in-time criteria, reducing costs. RFID is an excellent real-time business tool that helps better manage supply chains, increase profits, and decrease costs by improving visibility (and confidence) into your inventory management system to enable overall inventory levels, labor costs and safety stocks to be reduced.
View a video highlighting the features of the SUPPLY
SENTRY

.

The video shows how the system can help you reduce risk, lower working capital for excess inventory, optimize freight costs, and simplify your inventory management of many critical materials. Click the image below to view the video.
Let SUPPLY
SENTRY

help you guard your asset investments with RFID technology
SUPPLYSENTRY can be set up with items having pre-determined minimum order quantities to generate automatic inventory replenishments or to generate an automatic e-mail to alert someone as to the need to order material.
SUPPLYSENTRY is designed to make managing inventory simple, efficient, and more accurate than traditional methods.
SUPPLYSENTRY is customizable to fit your strategic requirements, and can deliver measurable returns on your investment.
SUPPLYSENTRY can also provide an integrated and modular RFID portal system, designed to provide the reliability, flexibility, and scalability needed for a variety of supply chain/inventory management applications.
Web-based user interface
SupplySentry's web-based interface allows the customer to see at a glance what they currently have in stock. They can see what items they stock, the quantity of each item on hand, the quantity in transit, and the suggested amount needed to replenish their supply. The SupplySentry website also allows the customer to make adjustments to their inventory levels as their needs change. They can set the maximum quantity, the minimum quantity and the re-order point for each item.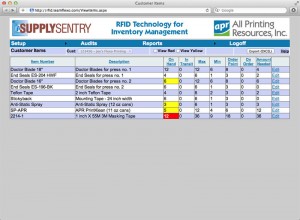 Customized Features Make SUPPLY
SENTRY

Even Better!

For large items that are too big to fit into a cabinet, like cases of photopolymer plates or large rolls of mounting materials, our new rack system can track inventory stored on your existing shelving. And, for those items that are too small to hold an RFID tag, or ship in cases with quantities so large that we can't tag each individual item, we can integrate scales into the cabinets to track usage of these items by weight. And if security is needed, we now can provide locked storage that can only be accessed with a fingerprint scan.