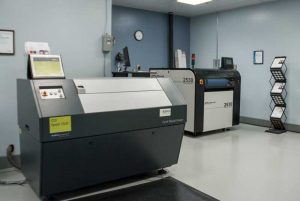 Platemaking has evolved quite a bit over the past 20 years. It is no longer an art only to be completed by skilled craftsmen, but rather a "science" that is easily controlled and quick to learn. Even so, many printers are still using trade shops to complete all of their prepress and platemaking work. In this two part blog series, we'll discuss the advantages of taking platemaking in-house.
To those not familiar with the process, the thought of bringing platemaking in-house can be intimidating and confusing. No doubt you've heard this in our blogs and articles before, but your best resources are your suppliers. We specialize in guiding our customers through  planning and implementing the right platemaking system for their needs.
When determining if bringing platemaking in house is right for your business, there are three main questions to consider:
Will my company save money by making our own plates?
Financially justifying the move to in house platemaking is usually the most important factor in the decision process. There are many factors to consider, including avoidance of press downtime, lower photopolymer costs, and the elimination of expedited shipping charges. APR's Technical Solutions Group can help you calculate these savings and form a ROI document based on your unique situation.
Will we need additional personnel dedicated to making plates?
Maybe. If you are using a large quantity of printing plates on a daily basis, then platemaking alone may be a full time job. On the other hand, if you are using a smaller quantity of plates, it is feasible that someone in prepress or another department could integrate platemaking tasks into their schedule, or dedicate a certain time of day to making plates. APR's TSG has in depth working knowledge of all platemaking processes. We can help estimate the amount of hands-on time needed in the plateroom based on your expected volume.
What type of platemaking system is right for my company?
Solvent, thermal, or aqueous platemaking? They all have their pros and cons, but what factors are important to your company? At APR, we represent manufacturers of solvent, aqueous, and thermal platemaking systems. We have the ability to guide you through the process, but more importantly we will ensure that you prove out the platemaking system through live testing. This includes utilization of our fully-equipped flexo lab (located in our Glendale Heights, IL location) where we can make test plates, analyze plates and print results, and demonstrate operation of a variety of processes. Thanks to our partnership with Bobst, we also have cutting edge narrow web presses available for demonstration and testing.
In summary, bringing platemaking in house can be a worthwhile and profitable endeavor. Once financially justified, there are many choices in equipment and plate types to be considered. Utilize the experts at APR to help navigate this important decision - we are here to help!
If you would like to download a list of questions to consider when bringing platemaking in house, click here. For more information on platemaking systems, contact Catherine Green at c.green@teamflexo.com.