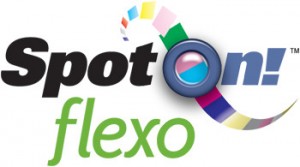 SpotOn! Flexo, the proven pressroom software tool that flexographic press operators can use to target optimum density for spot colors, is now available!
SpotOn! Flexo for Optimum Spot Color Reproduction
SpotOn! Flexo is a proven, leading-edge technology that makes it possible to get optimum color reproduction and density information for any spot color, right at your fingertips.
You can try SpotOn! Flexo now by downloading the free 30-day trial version. Just go to www.spotonflexo.com and click on the download link, fill in your information, and start saving time and money today!
SpotOn! Flexo is a software package that uses spectral data to determine the best ink density for optimum color reproduction, allowing the press operator to run a spot color to match a customer's approved color.
SpotOn! Flexo compares the spectral data of a color measured on a press pull (using a spectrophotometer) to the spectral data of the reference color. A quick calculation gives the press operator the optimal density to obtain the closest (lowest Delta E, or ΔE) match to the reference color.
SpotOn! Flexo benefits include:
Reduced press "make-ready" time trying to obtain the correct color match to a spot or custom/brand color
More consistency by monitoring the spot colors versus the reference color throughout a run
Accurate monitoring to help your pressroom team foresee potential issues, such as changes in ink viscosity or pH
Timely troubleshooting of doctor blade wear, anilox roll plugging and plate wear
Customer Testimonial
"We run a lot of spot color jobs and Spot On! Flexo helps us keep tight controls and repeatability to a standard. Having this kind of precise technology also helps us to identify what our pressroom needs to do if there are any deviations from run-to-run that aren't a result of ink formulation, such as change the anilox rollers. Spot On! Flexo has been very beneficial to our pressroom operation in this way." Bill Rund - Production Manager Mac Paper Converters, Inc.
SpotOn! Flexo provides the density of the reference color as well as the density from the press pulls and provides the press operator the "optimal" density required to obtain the best color match. A simple user interface also shows the press operator if they are within the color match tolerance created for the specific print job.
For more information on SpotOn! Flexo software, or to download the free 30-Day demo, visit www.spotonflexo.com.
(To convert your 30-day demo copy into a fully-licensed version, purchase an activation code, by following this link.)
See how quickly SpotOn! Flexo can pay for itself!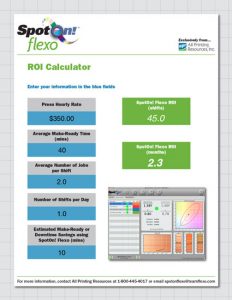 Download - SpotOn! Flexo ROI Calculator - Adobe Acrobat PDF 693K