Professional quality trapping tools for Adobe® Illustrator® CS.
No printer can assure a job will be printed well without sufficient trapping. Trapping artwork according to defined specifications is time intensive. It also requires highly professional skills. All DeskPack trapping solutions are based on the ESKO trapping core technology, considered one of the best in the industry.
Three kinds of trapping in Adobe® Illustrator® :
1. Automatic and standalone trapping with PowerTrapper
ESKO's Automatic Trapping module is now also available for Adobe® Illustrator® . It traps your file in a matter of seconds according to the Trap Presets you have specified. You can make on the fly modifications, retrap parts of the job in a very intuitive way and 'teach' PowerTrapper how to handle your trap exceptions.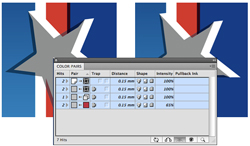 2. Interactive trapping with the Instant Trapper
Interactive trapping becomes easy with Instant Trapper. With this module for Adobe®Illustrator® , trapping becomes a matter of clicking the 2 elements you want to trap conform the basic settings you defined.
3. Workgroup Trapping: free your workstation
There's also a server based trapping solution. It offers the same functionality of the PowerTrapper but the actual trapping is done on a server. This also allows you to centralize and capture competence in defined sets of rules that can be used across all workstations to maximize consistency and repeatability.
Never leave Illustrator
Trapping is done without ever leaving Adobe® Illustrator® CS.
All traps are placed in a separate trapping layer-with editable trapping objects- on top of the original design.
This is 'non-destructive' trapping, the original artwork is never touched.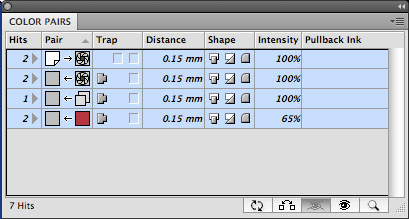 Trap everything
Trap objects, editable text, special fills, transparency, gradients, and process and spot color images together to assure a perfect job, independent of how it is printed. With support for technical inks, special inks, varnish areas - everything necessary to complete a packaging design for print.